Hi Adam
AM: The interesting phenomenon is when the disturbance function is the same as the feedback function, G=H. The inverse of G cancels out the inner G, and the equation simplifies to just
qo = qd
RM: Yes, this is the situation in most of the tracking tasks we use in demos since G and H are typically multipliers of 1.0. That's why we see the nice "mirror image" relationship between qo and qd.
AM: If H and G are nonlinear, the nonlinearities cancel out, we get a linear relationship.
RM: Yes!.
AM: You also wrote in the previous post (twice) that the organism function is relating qd and qo, that is not correct. The organism function is relating qi and qo.
RM: Actually, we are both correct.
AM: Nice damage control. You were referring to some other organism function.
RM: It wasn't "damage control". It was simply pointing out an essential fact about what Powers was referring to as the "organism function" in the article we have been discussing. You were right that qo = f(qi) is the "organism function" in a control diagram. But because Powers paper was about how scientific psychologists go about trying to determine the organism function, he wrote the organism function as qo = f[h(qd)]. This is because experimental psychologists implicitly assume that the proximal cause of behavior – what we call qi – is directly proportional to the distal cause – qd – which is the independent variable in conventional psychology experiments. That is, experimental psychologists have assumed tha h(qd) is essentially a multiplier of 1 so that qi = qd. So while conventional psychologists are actually looking at the relationship qo = f[h(qd)] they assume they are looking directly at the system function qo = f(qi).
RM: It is not "damage control" to point out that Powers considered qo = f[h(qd)] --rather than qo = f(qi) – to be the relevant organism function because seeing the organism function as qo = f[h(qd)] is crucial to understanding the behavioral illusion, as can be seen in this except from Powers (1978):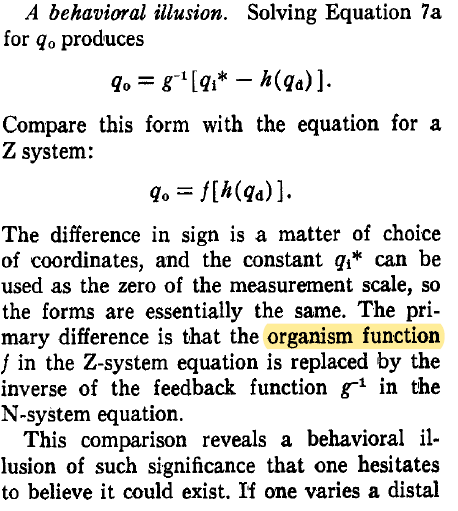 RM: I highlighted "organism function" to make it clear that Bill is referring to the second equation – qo = f[h(qd)] – as the organism function, the one for a Z- system.
AM: Let me get back to this:

RM: Maybe this is the source of our apparently irreconcilable differences…What you are saying is that qo and qi are not related by a function because there are other causal paths ending in qi…
AM: I'm saying that because qi = h(qd) + g(qo), it is not correct to say "qi and qo are related by function G", because it is misleading. It implies that you can write qi = G(qo), because that is not what the plot are going to show.
RM: Well, I don't think it is misleading. But I no longer think this is the reason for our disagreement.
RM: It seems to me that discussing the behavioral illusion without discussing controlled variables is like discussing the bent stick illusion without discussing the differential refraction of light in air and water.
AM: Not at all. Qi represents all possible controlled variables. All the same to math or simulation. Just trying to stay on topic.
RM: I meant that when the topic of discussion is the behavioral illusion as described in Powers (1978) – an illusion that results from failure to take into account the fact that qd and qo have opposing effects on a controlled variable, Qi, whatever that variable may be – it seems like the discussion should always focus on the fact that the illusion occurs because the existence of controlled variables is being ignored or missed.
RM: And I also wonder why you are fixated on the S-R behavioral illusion described in Powers (1978)…
RM: It doesn't seem relevant to your power law of movement research…
AM: That sounds like something I would say (almost). Highly suspicious to hear it from you.
AM: Ok, I'll bite. What brings you to that conclusion after your previous conviction that the power law is an example of the behavioral illusion?
RM: I never thought the power law was an example of the behavioral illusion described in Powers (1978). It was obvious from the get go that the power law was not that kind of illusion; there was no independent variable that could be the qd causing a qo via the organism. But it is an illusion in the same way that the observed relationship between qd and qo is an illusion; it is an observed side effect of control that is taken to reflect something about how the organism works – about the organism function – when it doesn't. I explained this in both of my papers on the power law. You (and almost everyone else involved in that debate) didn't care much for my explanation, to say the least. So let's just leave it at our agreeing that the power law is not an example of the behavioral illusion described in Powers (1978).
Best
Rick