rick, seriously, do you intend to create more noise than signal, or is it just by chance? if you had reac my first emails when i had the patience to answer to tou bit by bit, while you were high on adrenaline imagining you were going to be the next revolutionary that would change the world by denouncing all behavioral illusions… you would know what you are asking now!!? anyways:
very very grave that you still use letters on axis, without phenomenologically thinking and feeling what they are an how they make sense. V is not V, it is V/R=A, in the y axis. it told you that!! so, yes, everyone slows down at higher curvature

if you don't like the name power-law because nothing can be a law dictating anyhthing to an organism becauae of this obsession with freedom that pct stems from, then call it a power-function.
if you are serious about the question, read whitehead's adventures of ideas, chapters on laws of nature.
the law is a constraint; or the law refelcts a constraint on movement. because it shows empirically that kinematics is bound by geometry in a particular ways. once we know where the law comes from, we should be sble to say where that constraint emerges from.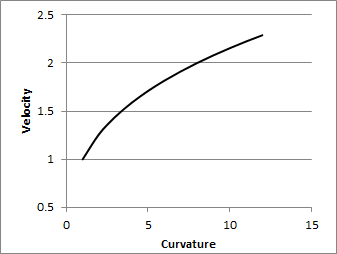 ···

On Fri, Aug 26, 2016 at 2:28 PM, Chad T. Green Chad.Green@lcps.org wrote:

[From Chad Green (2016.08.26.1728)]

Â

We appear to be stuck in a double bind, an everyday occurrence which according to Gregory Bateson represents the conflict between different logical types, i.e.,
the information communicated through semiotics ("you can criticize meâ€?) and that which is communicated through actions or metacommunication ("your criticism is unwelcomeâ€?).Â

Â

According to Deleuze and Guattari (1983) double binds are undecidable "until we do away with both the problem and the solution� altogether and instead aim for
constant evolution (becomings or plateaus of intensity). Otherwise schisms such as what we now have are inevitable (i.e., schismogenesis). Food for thought.

Â

Best,

Chad

Â

Chad T. Green, PMP

Research Office

Loudoun County Public Schools

21000 Education Court

Ashburn, VA 20148

Voice: 571-252-1486

Fax: 571-252-1575

Â

"We are not what we know but what we are willing to learn.� - Mary Catherine Bateson

Â

From: Richard Marken [mailto:rsmarken@gmail.com]
Sent: Thursday, August 25, 2016 6:13 PM
To: csgnet@lists.illinois.edu
Subject: Re: Got Ideas?

Â

[From Rick Marken (2016.08.25.1510)]

Â

On Thu, Aug 25, 2016 at 1:18 PM, Alex Gomez-Marin agomezmarin@gmail.com wrote:

AGM: what an elegant way, dear rick, to retire for a while from the spread-shit power-law discussion, than suggesting that nobody but you in the csgNet can have ideas. bravo!

Â

RM:I didn't mean to imply that nobody but me on CSGNet can have ideas. I just predicted that, since I have now left the power law discussion, there wouldn't be any ideas forthcoming in answer to your question about why
or how the control of perception may give rise to the power law. I did say that to be provocative because I would like to hear how others would answer your question (note that I said that I hoped my prediction would be wrong) but also because I would like
to hear something other than that my ideas are all wrong. I would like to know what ideas people think are right:Â why or how might the control of perception (PCT) give rise to the power law? Inquiring minds want to know;-)

Â

Best regards

Â

Rick

On Thursday, 25 August 2016, Richard Marken rsmarken@gmail.com wrote:

[From Rick Marken (2016.08.25.1015)]

Â

Rick Marken (2016.08.24.0850)

Â

RM: What I think would be most productive now would be for me to drop out of this discussion of the power law. This should certainly resolve the conflict over the power law.Â

Â

RM: What I suggest is that we hit the reset button and start all over from your initial question, but without me in the mix. Your initial question, Alex, was excellent:

Â

AGM: Any ideas why or how "the control of perception" may give rise to this power law constraining geometry and kinematics in humans, and now in fruit fly larvae?

Â

RM: Now that I am no longer in this discussion, I predict that there will be no ideas forthcoming in answer to Alex's question. Silence will prevail, showing that it was all about trying to show that my idea is wrong rather than showing
that their idea is right; because I believe they have no idea.Â

Â

RM: I hope my prediction is as wrong as they think my analysis is.

Â

BestÂ

Â

Rick

–

Richard S. MarkenÂ

"The childhood of the human race is far from over. We have a long way to go before most people will understand that what they do for others is just as important to their well-being as what they do for themselves." – William T. Powers

Â

–

Richard S. MarkenÂ

"The childhood of the human race is far from over. We have a long way to go before most people will understand that what they do for others is just as important to their well-being as what they do for themselves." – William T. Powers

–
Richard S. MarkenÂ

"The childhood of the human race is far from over. We
have a long way to go before most people will understand that what they do for
others is just as important to their well-being as what they do for
themselves." – William T. Powers