[Martin Taylor 2009.04.10.13.52]
Happy Easter, if that fits your background…
[From Bill Powers (200904.07.0706 MDT)]

Martin Taylor 2009.04.06.14.11 –

I'm not happy with my reply to this post yesterday. As I read it over
today, I see that I never succeeded in focusing on what bothers me, and
ended up saying things that are irrelevant or pointless. This
communication business is not as easy as it looks. I'm going to try
again.
So I'll answer this one before the earlier one.
Let's make another
generic
claim: "All human psychology is an attempt to find out something
about the way a mind works", where "a mind" represents
everything that goes on between the sense organs and the muscular or
chemical output processes.

I now see the problem here. It is the implication that behavior starts
with an input and ends with an output, so "mind" mediates
between the sense organs and the muscular or chemical output processes.
I
don't know if this is what you intended to say, but it's what your
words
get turned into when they end up inside me.

The PCT view is very different. The muscular or chemical outputs are
adjusted by the mind so as to alter the sensory inputs and make all
that
is constructed from them match the states that the mind prefers. I'm
sure
you understand this as well as I do. Why is it, then, that your words
appear to imply the old theory in which inputs from the environment
cause
outputs to the environment and that is the end until the next cycle? Is
this only my peculiar way of listening, or is your language drawn from
an
older paradigm? But if the latter is the case, how can it be that you
show such a clear understanding of PCT and such a lucid way of
expressing
yourself when you're explaining it to others?
Perhaps your way of listening combines with my way of expressing,
leading to misapprehensions. But perhaps there is another possibility?
Since you believe I have a clear understanding of PCT, could it be that
I sometimes see implications of PCT that you have not seriously
considered? Might those implication not sometimes be correct?
In looking for something quite different, I came across this, from
[Martin Taylor 971212 10:45]:
*"I think you really do have the right idea. But you don't have to
assume I have the wrong one. I did say that I was only trying to state
the same as you, but from a different viewpoint, after all!
If the
meaning were what you assume,
What you assume I assume. Why didn't you assume I mean what you mean,
instead? It's the easier assumption, and the correct one, too. As has
often been the case in earlier discussions."*
Perhaps the consistency with which you choose to assume I mean the
sillier of two possibilities might explain something of the frustration
I often feel during our interactions. However, let's proceed.
Here's a thread of possibility.
I see four distinct "schools" of psychological thought over the last
100 years (ignoring clinical schools, as well as the Gestaltists, who
dealt primarily with what we would call perceptual input functions).
These, in a deliberate ordering, are Behaviourist, Cognitive
Psychologists, TOTE, and PCT. The ordering is based on how much of the
system they considered important. Call them B, C, T, and P.
All these schools have some things in common. The direction of signal
flow is one. All agree that signals flow from the sensory systems into
the mystery inside the body, and flow out of the body to the
environment by physical and chemical means. In other words, all agree
on there being sensory INPUT and muscular and chemical OUTPUT. Calling
these interfaces "input" and "output" signifies an arbitrary point of
view. They could as easily be called, respectively "output" from the
environment to the living entity and "input" to the environment from
the entity. But we don't usually take that environment-centred point of
view. It's a convention to say "sensory input" and "muscular output",
possibly because most of us find it easier to imagine being in the
position of the living object of analysis rather than that of the
physical environment.
To me, the key difference among the schools of thought is on what
signal channels they presume to exist and the importance they assign to
those channels. In gross terms, calling the mush inside the head "mind"
or M, the Behaviourists considered anything inside M to be
unexaminable, and the only signal paths to be S->M and M->R. M
acted as a very high-dimensional function, so R = M(S).
Cognitive Psychologists did differentiate M into modules, among which
were modules that modelled the environment and could algorithmically
determine what actions would have what effects on the environment. Call
those modules of M, Me (which isn't a bad menemonic, because "self"
might be found there). The rest of the "mind mush" we can call Mm. This
separation allows for more signal channels, so that, speaking in gross
terms, the important channels were S->Mm, Mm->Me, Me->Mm,
Mm->R. Of course there are lots of modules, but for this purpose,
they can all be combined
TOTE includes everything the cognitive psychologists did, but adds an
important extra: R->E->S. (where E is the environment)
Nevertheless, if I understand TOTE correctly, this added channel is
used only as a kind of check on the cognitive processes, so the
important channels still remain those of the Cognitive Psychologists.
PCT incorporates all the channels used by TOTE. The segregation of M
into Me and the ill-defined M of Cognitive Psychology is further
refined so that there really is no "mind mush" left except for issues
of detail. Another difference is that in the same way the Cognitive
Psychologists partitioned the "mind mush", PCT partitions the
environment, in a way that provides a new signal path. The environment
in PCT consists of those aspects influenced by R and those aspects
influenced by independent sources, collectively called "D" for
"Disturbances". The two sets of aspects influenced by R and by D are
highly overlapped, and it might well be that most of the aspects
influenced by R in any particular circumstance are also influenced by
D. Nevertheless, it is convenient to segregate the effects into two
distinct signal paths, R->E and D->E, which merge into a signal
path E->S. In thinking of the signal paths, I combine in the
notation all the different levels of control just as I do for the
modules of cognitive psychology, and treat levels at "logic" and above
as Me. In contrast to the Behaviourists, PCT considers it possible to
examine what might be happening inside M, by simulating it, using as
data the observables in the environment, and seeing whether the model
would have produced nearly the same data under the same conditions. If
it does, the real M might plausibly include functions homologous to
those used in the model.
The key difference between PCT and TOTE is that the acronym "TOTE"
finishes with "E" = "End". In PCT thought, there is no "End". Control
is continuous, so that the path S->M->R is completed by
R->E->S at all times that some element of S is actually being
controlled. This, together with the prominence of D, raises the
importance of the R->…->S pathway to equality with that of the
pathways inside M.
Here's a small table summarizing all this:
School
B C T P
S->M x X
X X
M->Me x
X X
Me->M x
X X
M->R x X
X X
R->E
x X
D->E
X
E->S
x X
This table may be a little misleading, inasmuch as B takes R to
be a function of S, whereas the others do not. But I think the gist of
it is a reasonable cartoon of the main differences among the schools of
thought.
Since all of the schools use the signal paths S->M and M->R, and
do not use paths M->S and R->M (though such paths can and may
exist), I think it is not at all unreasonable, nor inconsistent with a
pure PCT view, to say: "All human psychology is an attempt to find
out something
about the way a mind works", where "a mind" represents
everything that goes on between the sense organs and the muscular or
chemical output processes.
Now let's consider the pathways that are new in PCT, since it
goes back to an old thread (I don't know how old – apparently it was
some years old in 1997 and I haven't found it in Dag's archives yet),
recently revived between Bruce A and Bill (e.g. From
Bruce Abbott (2009.04.10.1045 EDT)] – that only a small
selection of perceptions are at any moment being controlled. As Bruce
says: "In
a computer, the routines exist in memory
but are not actively doing anything until those stored instructions are
executed. I really don't have a sense that my "spoon-to-mouth"
control system is active while I'm typing this message."
The new pathways in PCT are the R->E, D->E, and E->S pathways.
It's easy enough to list them like that, but to do so hides the fact
that R can use only a few heavy, slow movers, whereas E->S uses a
huge number of very fast sensors. That discrepancy ensures that only a
very small proportion of the possible perceptions at any one level of
the hierarchy cold be under control at any moment. That means one or
both of two things: (1) only a small proportion of the possible
perceptions at any level are actually produced, and (2) only a small
proportion of the perceptions that are produced are controlled. This
being the case, there must be some mechanism for switching control from
one perception at a level to another at that level. Discussion of that
mechanism is better treated in a different thread, perhaps the one Bill
and Bruce are pursuing. Here I want to consider a different implication.
Many perceptions are functions of more than one lower-level perception
or sensory input (according to HPCT and a nearly 200-year tradition in
psychology). However, the value of any one perception is a scalar (in
HPCT). The implication is that control of this multi-input perception
can often be achieved by manipulation of only one of its several
inputs, leaving the others to vary as they might. The other inputs, in
combination, come from the set of aspects of the environment called D
above, whereas the controlled one is from the overlap of D and R, or
perhaps of R alone.
We can describe this set of circumstances as P = p((s1, s2,…,sn), sc)
where sc is the sole input that is influenced by the person's actions.
Another way of writing the same thing is sc = F(P, (s1, s2,…, sn)),
where the functional relationship is descriptive and carries no
implication of causality. When P is well under control, it is
approximately constant, so one can write, for any specific value of P,
sc = F((s1, s2,…,sn) | P). This is the situation for most of our
controlled perceptions, though sometimes we control two or rarely three
of the inputs. In most PCT experiments, it's only one. We might be able
to move from controlling one of the inputs to controlling another, but
it's not easy to maintain simultaneous control of two, let alone three.
This holds at any one level. But it also holds at the next higher
level. The lower level perception controlled by influencing one of its
several inputs is just one of several inputs to the next higher level
perception, and yet that higher level perception can be controlled
using a feedback path that influences only the single lower-level one.
In the diagram, the controlling scalar-all-the-way feedback loop is
shown black, the other influences on the controlled perceptions are
shown red.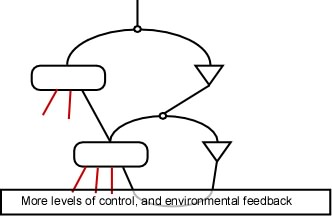 Notice that these uncontrolled inputs to the perceptual functions are
not shown where disturbances are usually shown in a PCT diagram, but
they are nevertheless disturbances. They are disturbances that are not
countered in the environment by any of the controller's actions, but
their effect on the controlled perceptions are nevertheless countered
by the control action. Collectively, to the degree to which control is
successful, at each level they are functions of the single control
input.
I think that's about all I want to put into this message. I think my
main point is really the same one as is exemplified in my complaint of
12 years ago: "I think you really do have the right idea. But you don't
have to assume I have the wrong one. … Why didn't you assume I mean
what you mean, instead? It's the easier assumption, and the correct
one, too. As has often been the case in earlier discussions."
Why is it that when I say something that could with some stretching be
interpreted as being silly, the silly interpretation is what you so
often assume to be my meaning? You've been doing it for over a decade
and a half, and from time to time it has even led me to consider
leaving CSGnet. It is incredibly hard to write anything that can't be
given a different interpretation, without resorting to the kind of
language used in legal documents. I don't think you would like that,
even if I could manage it. Instead, I'd prefer it if you might use
interpretations based on what you said: "you
show such a clear understanding of PCT."
Martin