Rick,
RM: Please describe the real life experiments you have done and explain how they show that it is better to use the word "stability" rather than "control".
HB :Well Rick I must say that you surprised me with your »new« attitude.to me. Well if we'll continue in this tone, we could maybe reach our pleasant conversation level from 2007 where our first question was : which perception do we have to control, not which behavior we have to control.
I already gave you my »perceptual decriptions« of walking, driving a car, »tracking experiment«…. They all have integrated above mentioned PCT principle. Which perceptions do we have to control. Specailly in car driving you have to be carefull which perception do you control so not cause accident. Behavior is just means of perceptual control.
All my other experiments which I've done from my primary field of occupation and my other life observations are hidden in this sinple PCT logic. I'm sure you will enjoy doing them if we'll come to that point. They can be done as »laboratory experiments« or PCT analyses of real life situations.
But before we start with other experiments, you first have to answer my question. Pleasant and constructive conversation can not be accomplished if answer on question is given with question.
And there is also one other limitation which we have to solve with Powers ladies. I've mentioned my request quite some times.
So I finally want to know whether you agree with Bills' diagram (LCS III) and Bills' definitions (B:CP) :
Â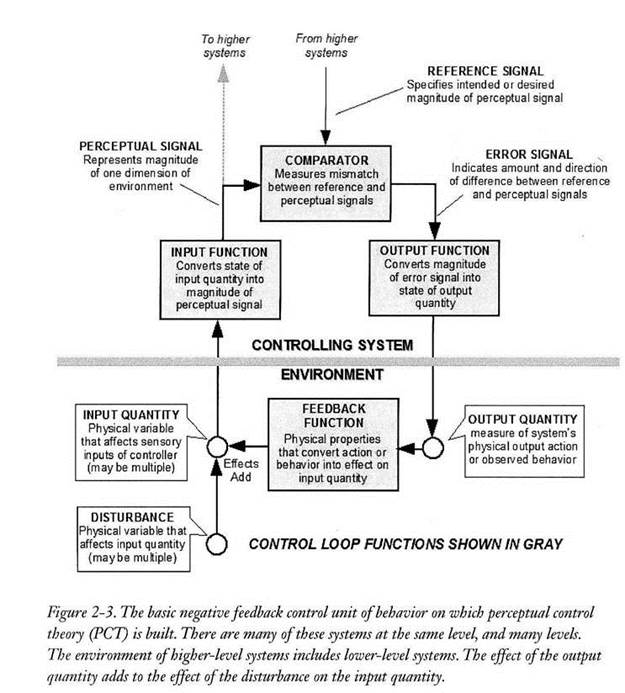 Definitions of PCT control loop :
Bill P (B:CP):
 CONTROL : Achievement and maintenance of a preselected state in the controlling system, through actions on the environment that also cancel the effects of disturbances.

Bill P (B:CP):
 OUTPUT FUNCTION : The portion of a system that converts the magnitude or state of a signal inside the system into a corresponding set of effects on the immediate environment of the system

Bill P (LCS III):…the output function shown in it's own box reepresents the means this system has for causing changes in it's environment.
Bill P (LCS III):
  FEED-BACK FUNCTION : The box represents the set of physical laws, properties, arrangements, linkages, by which the action of this system feeds-back to affect its own input, the controlled variable. That's what feed-back means : it's an effect of a system's output on it's own input.

Bill P (B:CP) :
 INPUT FUNCTION : The portion of a system that receives  signals or stimuli from outside the system, and generates a perceptual signal that is some function of the received signals or stimuli.

Bill P (B:CP) :
 COMPARATOR : The portion of control system that computes the magnitude and direction of mismatch between perceptual and reference signal.

Bill P (B:CP)
  : ERROR : The discrepancy between a perceptual signal and a reference signal, which drives a control system's output function. The discrepancy between a controlled quantity and it's present reference level, which causes observable behavior.

Bill P (B:CP) :
 ERROR SIGNAL : A signal indicating the magnitude and direction of error.

Boris
···

From: Richard Marken [mailto:rsmarken@gmail.com]
Sent: Tuesday, December 26, 2017 7:48 PM
To: csgnet@lists.illinois.edu
Subject: Re: FW: Watching your p's and q.i's (was Re: Kenneth J. W. Craik on levels of perception and control)

[From Rick Marken (2017.12.26.1045)]

On Tue, Dec 26, 2017 at 9:21 AM, Boris Hartman boris.hartman@masicom.net wrote:

RM …here's what Bill said in his letter to Phil Runkel: <

WTP: I think it is essential to follow the course that Marken set. First we must establish control as a phenomenon. This is not a theoretical matter. We have to show that organisms actually do stabilize external variables of all degrees of complexity against disturbances, maintaining them recognizably near reference conditions that we can identify experimentally.

RM: In this sentence, "stabilize" means to keep a variable (an external variable in this case) from varying, which is one feature of control; the other feature of control is acting against the effects of disturbances to this variable – disturbances that would result in the variable being unstable if the system did not act against them.

HB : In the case of keeping »external variable« recognizably near reference conditions you are showing so many problems and confusion, that is better to use word »stability« as Bill did.

RM : But by acting against these disturbances, the variable is maintained in reference states that can be identified experimentally.

HB : You are making again confussion. It's not maintained in reference state but near recognizible reference state. It's not objectivelly near reference state as you try to show. …

HB: Start using real life experments not just »kinder joystick experimental« and you will understand why is better to use word stability. .

RM: Please describe the real life experiments you have done and explain how they show that it is better to use the word "stability" rather than "control".

Rick

–

Richard S. Marken

"Perfection is achieved not when you have nothing more to add, but when you
have nothing left to take away.�
–Antoine de Saint-Exupery