[Bruce Nevin (2011.11.24.23:00 ET)]
Fred Nickols (2015.11.24.1422)
In B:CP, events and sequences were not distinguished. In Chapter 11, Bill gives the example of the word "juice", conceived to be a sequence of phonemes. Later, words were considered examples of event perceptions. An event is a fast, well-learned sequence. Temporally short, well practiced, so that it is quickly and easily produced or recognized.
To call a system concept a set is a little too abstract and featureless. Quoting Bill again:
A system concept is an attitude, an understanding, a world view. It's a sense of orderliness and coherence that we see in a body of principles and generalizations. It lives in an individual. It not only forms out of coalescing principles, but it determines which principles belong in the system and which do not. The process is one of assimilation and accommodation, simultaneous mutual adjustment between levels.
You might call it a coherent organization of principles into a whole, or something like that.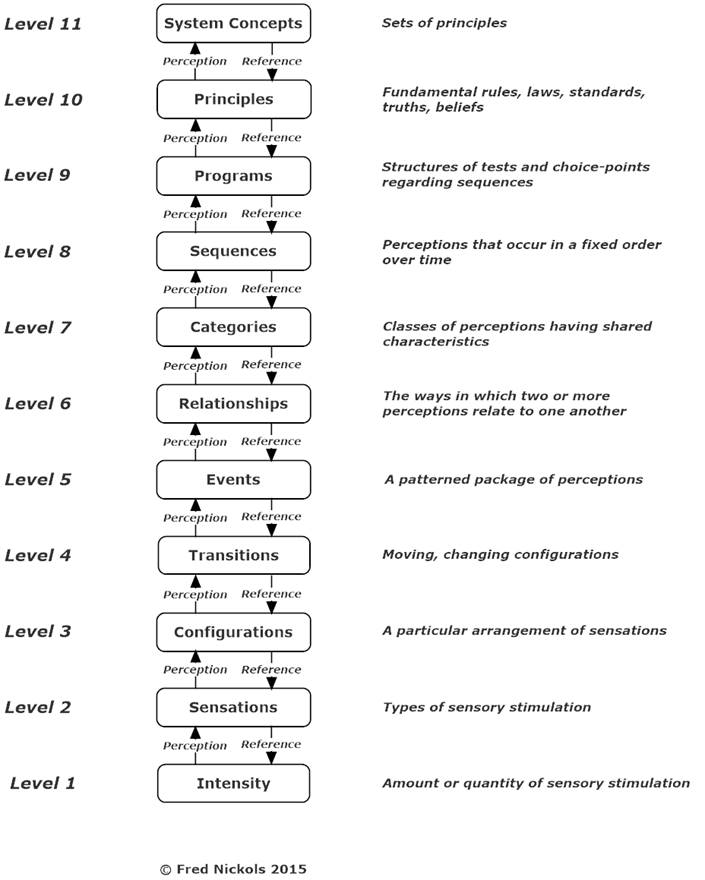 ···

On Tue, Nov 24, 2015 at 2:25 PM, Fred Nickols fred@nickols.us wrote:

[Fred Nickols (2015.11.24.1422)]

Â

I've started laying out a simplified view of the HPTC levels. See the diagram below. I have a few questions.

Â

Has anyone already done this?

Are there formal, official definitions for each level?

Are there any glaring errors in the diagram below?

Â

Â

Regards,

Â

Fred Nickols, CPT

DISTANCE CONSULTING

"Assistance at a Distance�

Be sure you measure what you want.

Be sure you want what you measure.

Â

Â