( Gavin
Ritz 2010.12.08.19.05NZT)
I have just had an off list email from a
very intelligent person stating is the word control actually the appropriate
word for PCT. I would not have been so brave to mention this but he's
correct from a semantical point of view. If I replace the word control with
mirror then it actually makes no difference.
Control has so many different meanings.
So then
If you cut out all the fluff about PCT in
a nutshell, in that diagram below the HPCT
is an assumption of Reality and
the PCVn to ****θ is its
selection mirror. (Where n=1 and θ= infinity)
Does this change the nature of PCT and my answer
is no it doesn't.
Brave concept. But it's a very
clever observation, it's not mine.
**Perceptual
Mirror Theory. **
Regards
Gavin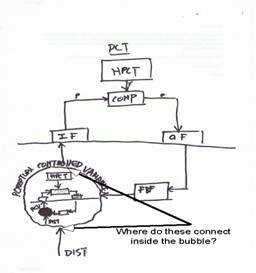 ···