[From Bill Powers (2008.12.14.1014 MST)]
I was looking back through that Science article, The Psychological
Consequences of Money (Vohs et. al), and picked up on something I had
missed the first time. This table shows the results from 4 of the
experiments: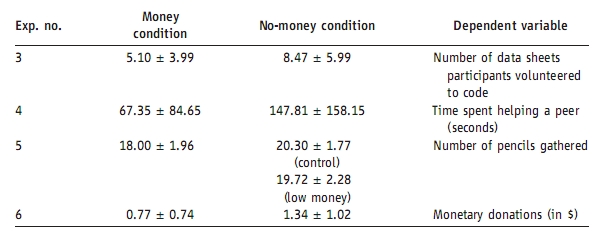 Check me out on this:
Condition Range (+/- 1 Standard deviation)
Data sheets coded (within 1 standard deviation)
Money 1.11 …
9.09
No-money 2.48 … 14.46
Time spent helping peer
Money -17.30 … 152.00
No-Money -10.34 … 305.96
Number pencils gathered
Money 16.04 … 19.96
No-Money 18.53 … 22.07
Control 17.44 … 22.00
Monetary donations
Money 0.03 …
1.51
No-Money 0.32 … 2.36
This doesn't quite answer my question (how many individuals showed the
effect, how many didn't?) but it does indicate that the distributions of
Money and No-Money conditions had a very large overlap. I don't know how
to translate this into probability of a correct prediction for each
condition, but it's certainly not very high. The theoretical probability
don't mean much since the distributions are probably not purely Gaussian,
but given the individual scores, which are meaningful for these four
conditions, we could determine the probabilities directly.
It seems to me that anyone who uses this study to make predictions about
individuals would be vitally interested in knowing whether the
predictions are believable. My first impression from the above data is
that a prediction about the effect of exposure to money on any
individual's behavior could easily be lower than chance – in other
words, probably wrong. It all depends on whether a few individuals
contributed large amounts to the mean. If a few of them account for most
of the deviations on the plus side, it's possible that the majority of
subjects showed no effect or the opposite effect. If that is true, using
these findings to predict what an individual would do would lead mostly
to incorrect predictions (predictions in the wrong direction).
Best,
Bill P.
···