(Gavin Ritz 2011.05.13.16.32NZT)
This is an attempt at showing PCT as a mathematical
category Theory Construct.
I'm no expert at MCT and this needs
a lot of work but this is an attempt. I hope that there are some categorists in
the group so this can really be improved.
The diagram below shows three Control
systems (individuals) interacting. The objects V, O and D have interesting
mappings.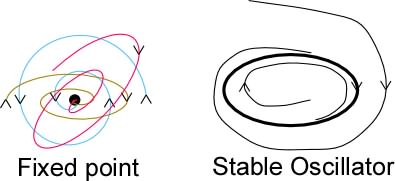 Object V (is the set of all possible
controlled variables)
Object I (is the set of all possible input
functions)
Object C (is the set of all possible comparators)
Object R (is the set of all possible Hierarchies)
Object O (is the set of all possible output
functions)
Object D (is the set of all possible
disturbances)
q,p,r,e,f,d, x are the maps.
So for example it reads, q is a map from V
to I, I and V are objects or sets with elements.
The mapping rules are:
q o (f o d), reads
q follows f follows d
p o q, p
follows q
e o (p o r), e
follows p follows r
f o e, f
follows e
x o e, x
follows e
What I think is that the set O is actually
a singleton set, because there's is one possible element in the set that's
muscular movement only (not sure at all about this). So this looks like a many
to one mapping.
Why do this mapping at all, because the
set R and all its elements is the command set, this will have special logical
significance in terms of truth testing, like the subobject classifier and
Imperative logical calculus. On map objects D, V and O. Also MCT is a
good way to map dynamical systems.
If this is converted say to an algebraic expression
function C (error) = reference signal minus perceptual signal. (that is, equals
element in object O).
This may even help the economic argument because
the interaction of the maps with object D may be a place to start. PCT Economic
theory?
Regards
Gavin
···