[From Dag Forssell (2014 13:00 PDT)]
Bruce, you wrote me privately, but I think it appropriate to answer you
on CSGnet.
Hi Dag,
How do I tell the listserv to send me a copy of my posts? After
Rick removed and restored my subscription to CSGnet I'm not getting any
feedback that my posts have actually been posted – unless someone replies
to them. (Now isn't that ironic: no feedback on CSGnet!)
Best wishes,
BruceSo Rick terminated you too

I suggest going to

https://lists.illinois.edu/
Log in (top of page) with your email address (the one you use for CSGnet
if you have more than one) and password. You took notes once upon a time,
right? If not, I think the server will mail it to you or a mail that
allows you to set a new one.
Seems to me you can also enter CSGnet in the space for Search lists on
the left.
I got a window and clicked on Subscriber Options: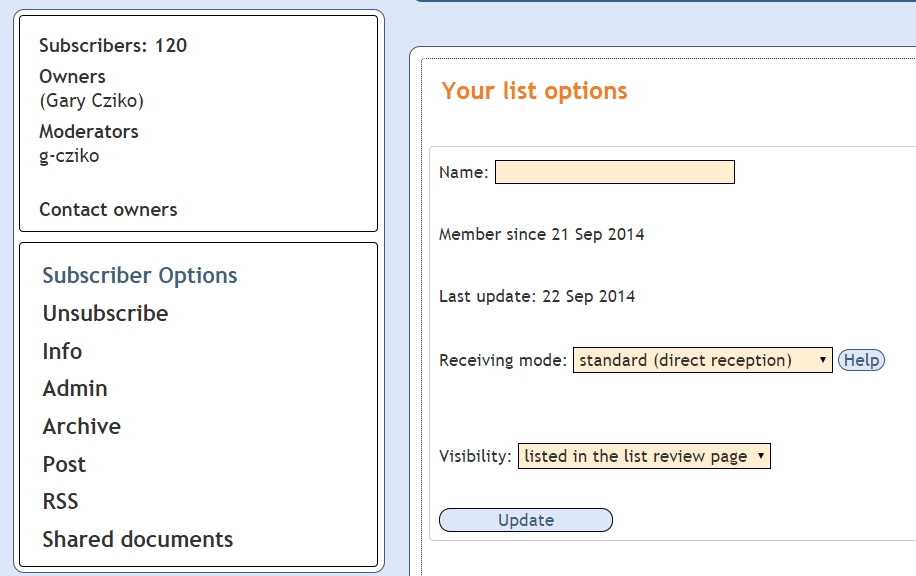 Click on Help to the right of Receiving mode: I suspect yours is set to
"Not me".
standard (direct reception) works for me. Click on Update.
Hope this helps.
Best, Dag