Hi Rick
That is a quite hard claim: "PCT (and I) take the truth of what is out there to be the current physical model of what is out there." Could you point where does PCT say so?
I think this claim could be called eliminative reductionism. According to it only the research objects of physics do exist. The research objects of all other sciences are non-existing. So in addition to tables etc. also chemicals and physiology, living organisms,
all kind of control systems, PCT and finally the science of physics itself with its models are non-extant.
I have learned from John Heil (e.g. From an Ontological Point of View), who is one of the most science appreciating current ontologists, that it is really the duty of the "fundamental physics" to tell the "deep story" of reality i.e. account for the basic
constituents of this reality. BUT this does NOT mean, that all the complex compilations build from these basic constituents would then be non-extant. Not even if in some far future the physics could fulfill that duty. The eliminativist claim is like someone
would believe in the existence of sand grains but in sand heaps.
Secondly I would believe that the model of current physics somewhat allows the principle "everything affect everything". If so, we do not have much bases to make assumptions that some variables as constituents of a perception would really be fully independent.
All this leaves much room in reality to the CEVs – even though they were restricted out from some theory. And this is not a claim that perceptions were one to one copies or representations of the CEVs of the reality. Not even the most simple and elementary
perceptions of those "physical variables" are, even they are constructions made by input functions.
BTW What are those "physical variables"? I would say that they are effects. And effects are effects of something to something. They exist only in interaction between some entities, in this case between something in the environment and the perceiving organism.
That "thing" (e.g. table) in the environment can cause many kind of effects depending the on the relationship between it and the organism. These effects again can cause many kind of perceptions depending on the nature of the input functions of the organism.
Best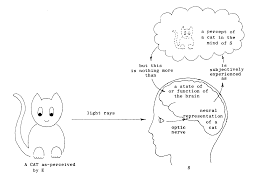 ···

Eetu Pikkarainen

---

Lähettäjä: Richard Marken rsmarken@gmail.com
Lähetetty: 28. marraskuuta 2016 7:51
Vastaanottaja: csgnet@lists.illinois.edu
Aihe: Re: TCV and Collective Control …

[From Rick Marken (2016.11.27.2150)]

Martin Taylor (2016.11.26.10.06

MT: Nobody, not even Rick with his privileged access to the truth, can know whether tables and chairs actually exist as we seem to perceive them, but until control fails because we have perceived something to exist that does not, we
can't know it does not exist.

RM: It is true that no one, not even I, has privileged access to what is actually out there in reality. As I have said before, however, PCT (and I) take the truth of what is out there to be the current physical model of what is out there. There are no tables and chairs in that model. Tables and chairs exist only as perceptions that are assumed, in PCT, to be functions of the variables in the physical model. Also, it's important to remember that, according to PCT, our
perceptual experience is made up of many levels of perceptual functions of the same hypothetical physical variables; and these perceptions are
variables . So a "table" is the state of a perceptual variable (the perception of a type of furniture, perhaps) that is itself made up of the states of perceptual variables like color, shape, relationship, etc. So there are no tables and chairs out there
to be perceived; there are just physical variables out there that can be perceived as tables and chairs.

MT: As RM says, even the physical variables are presumed to make up that real world, but we have to remember that this presumption is entirely based on the presumption that the objects themselves are real.

RM: Actually, PCT presumes that physical variables make up the real world based on the remarkable success of the physical models of which these physical variables are a component. The success of the physical models is demonstrated by their ability to precisely
predict what we will perceive when we manipulate other perceptions, like the inclination of a plane down which you roll a ball; that is, it's based on science. It's not based on the presumption that "the objects themselves are real" because "objects" are perceptions
themselves which are functions of the presumed physical variables that make up the reality described by the physical model. So in PCT we presume that perceptions, like the perceptions of tables and chairs, are
functions of physical variables, they don't correspond to physical variables themselves*.* In PCT we don't think of tables and chairs as really being out there (although we certainly assume it in our everyday lives); what is out there (we presume,
when we are wearing our PCT hats) are physical variables that are perceived as tables and chairs.

MT: It's a circular argument to say that tables and chairs don't exist because they are configurations of physical variables whose presumed existence depends on the presumed existence of table and chairs.

RM: Yes, that would be a circular argument, indeed. The PCT "argument" is that tables and chairs exist only as perceptions in systems (like people) that are capable of constructing those perceptions; those perceptions are
functions of physical variables that are presumed to exist in an environment external to the perceiving system. I know this is a difficult concept to get but maybe the "What is size" demo can help. In that demo the relevant physical variables are the
intensities of the light waves emitted from different locations on the display. There is no "area" or "perimeter" or "diagonal angle" or "squareness" or any of the other variable aspects of the display that we can perceive; all there is "out there" are, presumably,
light waves varying in intensity over space. But these physical variables can be the basis for perceptions of "area" or "perimeter" or "diagonal angle" or "squareness", etc by a system that can compute these functions of the physical variables. The physical
variables that are the basis of these perceptions are presumed to be really out there; but the perceptions that are a function of these variables are not out there.

MT: Control works if when you perceive yourself putting a chair under a table there really is a chair, a table, and a relation "under" in the real world.

RM: PCT would say that control will only work if, when you perceive yourself putting a chair under a table, there really are physical variables in the real world that are the basis for perceiving a chair and table and the chair perception being moved under
the table. This can't be done, for example, if the basis of the perception of a table and chair are light waves reflected off a van Gogh canvas; in that case you can perceive the table and chair but you can't put the latter under the former, without destroying
the painting, that is.

MT: There is an infinite number of other possibilities, but Occam's razor offers a single most probable possibility, which is that the reality by which we live or die actually contains those objects and relationships.

RM: Again, it would be more correct (from a PCT perspective) to say that the most probable possibility is that the reality in which we live contains the physical variables that are the basis for perceiving and controlling object and relationship perceptual
variables. I know this is a hard thing to understand; our natural inclination is to think of perception as corresponding to a reality that "looks like" those very same perceptions. Most people seem to think of perception as it is depicted in this cartoon:

RM: The idea is that there are things – objects – like kitties, out there in the real world that correspond to our perception of those things. I call this the "through a glass darkly" view of perception because the main question, for people who adopt
this view – and it is the easiest view to adopt, as one can tell from its biblical origins – is how well perception represents what is "really" (or thought to be "really") out there. The problem with this point of view is that it conflicts with the physical
model of reality that is based on science. That model contains no kitties; just light waves, masses, forces and such. So a better way to draw this cartoon would be to have an array of numbers instead of a kitty out in the real world; these numbers represent
the intensity of the light rays entering the persons visual field. Based on the effect of those light rays on the sensory receptors the person's perceptual functions construct the perception of a kitty. There is no such perception in the real world outside
the perceiving system. There may be a kitty out there but there is nothing in that real world that can perceive it as such. That's why the cartoon above is misleading. It's putting out in the environment a perception of the kitty, not what is actually in the
environment, which is the physical basis for that perception.

MT: I ask once again, as I would also ask Rick: How, without using your perceptual apparatus, do you KNOW what is or is not in the real world?

RM: What we know of the real world is based on science and that knowledge exists in the form of a model – a tentatively correct theory of what is actually out there.

MT: The CEV is a component of a theory that proposes that there exists one real world. In that theory, the CEV IS in the environment.

RY: But above you said it is "defined by the perceptual function", so how can it be in the environment?

MT: I don't know how else to say it than the various different ways I have used. Maybe I still don't understand what your difficulty is.

RM: Here's the difficulty. If the CEV is defined by the perceptual functiont, then it cannot be
in the environment. Here's why. Let the environment consist of 2 independent variables, x.1 and x.2. Define a perceptual function, f(x.1,x.2), as the product of x.1 and x.2. So f(x.1,x.2) = x.1x.2. So x.1x.2 is a perceptual variable that and assume
it can be controlled. So the function x.1x.2 defines a controlled perceptual variable. The CEV is supposed to be the environmental correlate of the controlled perceptual variable. So the CEV is the environmental correlate of the perception defined by x.1x.2.
But the only variables in the environment are x.1 and x.2 and they are independent – they have no effect on one another. That is, the environment itself cannot compute x.1x.2. So the variable x.1x.2 exists only as a perception. There is no environmental
correlate of x.1*x.2; that is, there is no CEV.

MT: No. I mean No. Your influence is on something in the environment that I call the CEV and Rick wrongly calls the "controlled quantity".

RM: No, your influence in the TCV is on the controlled quantity – the controlled perceptual variable as perceived by you. There is no such thing as a CEV in PCT, as I demonstrated above.

Best regards

Rick

–
Richard S. Marken

"The childhood of the human race is far from over. We have a long way to go before most people will understand that what they do for others is just as important to their well-being as what they do for themselves." – William T. Powers