[From Bjorn Simonsen (2010.12.03, 13:50)]
I think I have made wrong models, when I have tried to make PCT models with three (or more) levels. And maybe you have done the same mistakes Rick. I think upon your hier.exl.
My thoughts follow what you see in the figure below.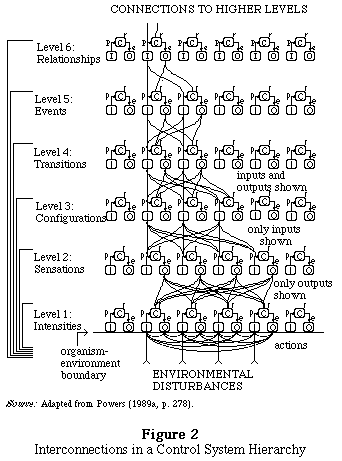 The p, perceptual signals, going from one level to the level above are nerve signals (BCP page 286) p = k(i) * q(i).
The q(o), has the units of physical units per signal unit and I find that OK at Level 1 where the q(o) goes to muscles and organs.
My question is this. Should there more correct og a line from e (error is a nerve signal) from a level to the level below? The r (reference signal) is a nerve signal.
If you Rick go to your hier.exl, you see that your reference signals are from the line O above. Maybe you are correct, then you must tell me the way I think wrong.
bjorn